nekorichii
Commission Status:
OPENPlease read the TOS before commissioning me.
---
Live2d Commissions
I can do Live2d Art, Rigging or both!
| Can Do | Cannot Do |
| --- | --- |
| Humans | Furries |
| Kemonomimi | Non-humanoids |
| Preferably Female | Mecha, Armor |
Base Price Rigging
Half Body: $500 | Full Body: $650 | Chibi $400
price may change depending on rig complexity
| Base Price Features | |
| --- | --- |
| Breathing | ✔️ |
| Head Movement XYZ | ✔️ |
| Body Movement XYZ | ✔️ |
| Eye Blink, Eye Smile, Eye Physics | ✔️ |
| Physics (hair, chest, accessories) | ✔️ |
| AEIOU mouth rig | ✔️ |
| Mouth X, CheekPuff if requested | ✔️ |
| Toggle Expressions | 3 Free |
| Additional Costs | |
| --- | --- |
| Additional Simple Expressions | $20 each |
| Additional Complex Expressions | $40 each |
| Simple On/Off Toggles | $10 each |
| Custom Animation | $50 each |
| Hairstyle Swap | $50 each |
| Outfit Swap | $150 each |
| Arm Toggles | $50 each |
Terms of Service
General Information
> I have the right to decline any commission requests if I feel I am unable to fulfill your requests. I am more inclined to accept a commission if the PSD file is nicely cut, you have a flexible schedule, or the art style fits my rigging style.
> Commission requests require a reference picture. Written descriptions are not allowed.Payment
> I Accept Paypal USD only.
>Payment will be done as 100% upfront.
> Once payment has been made, I do not accept refunds or chargebacks.
> I will only start on the commission after the agreed payment amount has been made.
> After I finish your rig, there will be a testing phase (2 weeks) where I can edit or change anything based on your feedback. There will be an additional fee if you want any changes after that.Refunds
A refund can be issued when:
> the client has requested for a refund before I could work on the commission.
> I cannot fulfill the commission by the given deadline.
> If you are not satisfied with the finished product, you are not allowed to issue a refund.Turnaround Time
> Finishing the commission depends on your spot in the waiting list and the complexity of the commission.
> It takes around 1-2 months for me to finish a rigging commission and 2-3 months for me to do art+rigging commissions.Permission and Copyright
> Upon purchase of a Live2D model, the commercial rights are already included and all the profit earned belongs to you.
> You are not allowed to edit, trace or modify my art unless stated so.
> You are not allowed to distribute any of my art for anyone else to freely use/edit on any sites.
> You are not allowed to claim/credit my art as your own. Please always credit me (e.g. Twitter: nekorichii, Instagram: nekorichii)Other
>Client must be of legal age.
> I have the right to post progress photos of your commission unless you ask beforehand.
> I have the right to post your finished commission with a watermark on any of my social media sites.
> I have to right to stream your commission on my Twitch unless you ask beforehand.
> I have the right to post completed commission works as examples in my Portfolio.Agreement
By commissioning me, you are stating that you have read and agreed to these terms.
If you would like to contact me for commission inquiries or general questions, please email me at [email protected] or DM me on twitter @nekorichii
Base Price Art Model
Half Body: $350 | Full Body: $550 | Chibi: $350
price may change depending on the model complexity
*Commission art requests must come with a reference photo. No written descriptions allowed.
Includes:
❤ PSD Live2D ready art
❤ PNGs of your model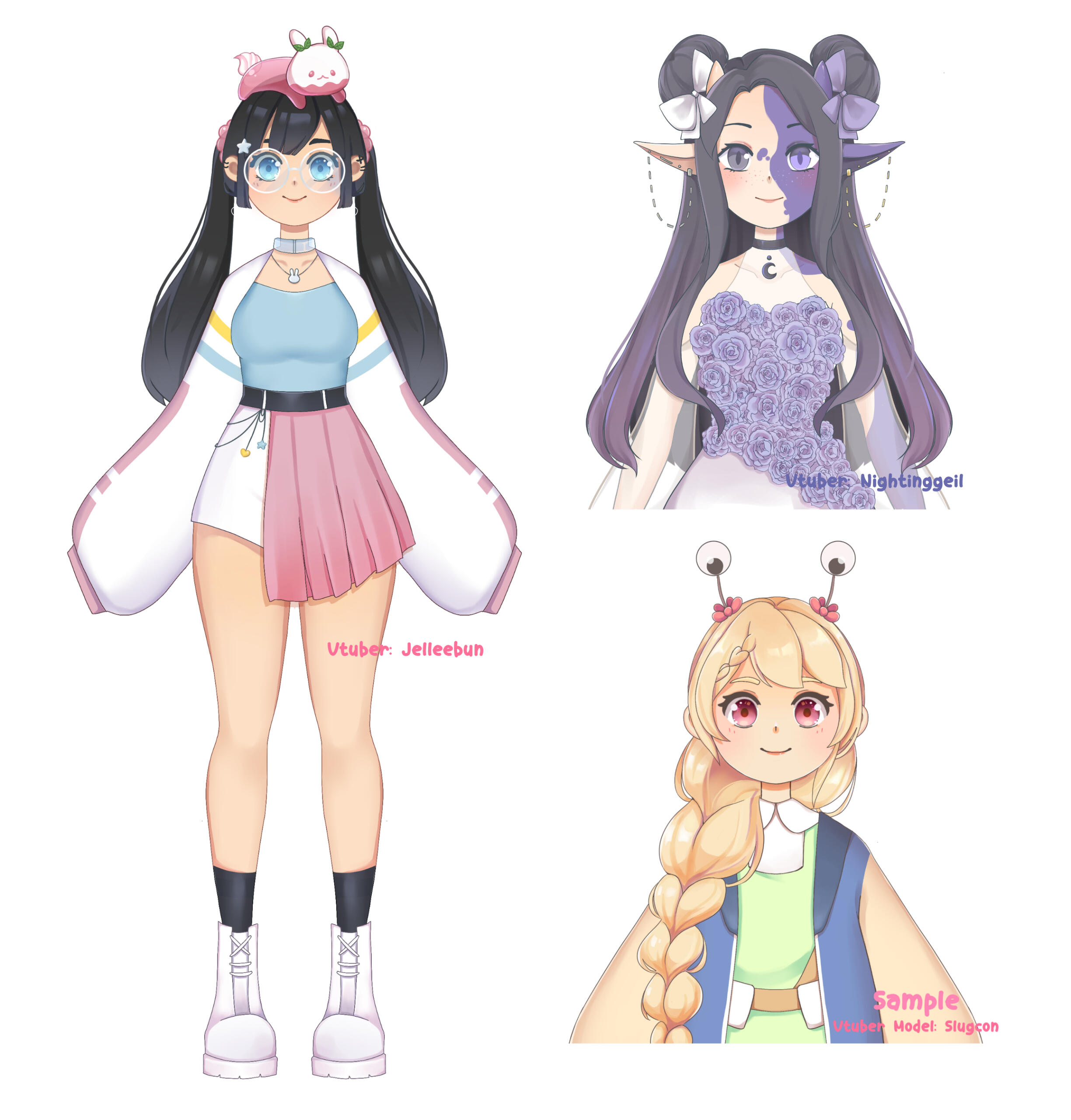 Rinimiki
Art: blackberritea
Rig: nekorichii
Jelleebun
Design: jelleebun
Art and Rig: nekorichii
NiuNiuVT
Art: inouekye
Rig: nekorichii
TrueBeetleCore
Design: TrueBeetleCore
Art and Rig: nekorichii
Bbbasilmaes
Art and Design: bbbasilmaes
Rig: nekorichii
OmumuLa
Design: artzawa_
Art and Rig: nekorichii